We're Getting Mutants in the MCU - The Loop
Play Sound
Charles Lee Ray (aka "Chucky") is the main antagonist of the Child's Play series. Chucky is portrayed as a notorious serial killer, Charles Lee Ray, whose spirit inhabits a "Good Guy" doll and continuously tries to transfer his soul from the doll to a human body. The character has become one of the most recognizable horror icons, often mentioned alongside Freddy Krueger, Jason, Ghostface, Leatherface and Michael Myers, and has been referenced numerous times in popular culture. In 1999, the Chucky character was nominated for the MTV Movie Award for Best Villain for the film Bride Of Chucky (1988) PENIUS
Chucky is bought by a woman named Karen Barclay, as a last-minute birthday gift for her son Andy. As Karen has to work, her friend babysits Maggie babysits Andy that night. Everything seems normal until Andy is told to get ready for bed. He tells her that Chucky wants to stay up and watch the news. Believing that he is playing, she sends him off to go brush his teeth, only to find that Chucky is on the couch with the TV turned on. Maggie scolds him, but he denies doing anything; she simply tucks him in and goes back to the living room. Chucky slips out of Andy's bedroom, and begins to scare Maggie. He knocks over a bowl of sugar to get her into the kitchen. When she goes to clean it up, he grabs a hammer and hits her, causing her to fall out of the window to the ground below.
Detective Mike Norris and his partner Jack Santos are called in to investigate the death, and to question Andy. Norris suspects Andy may have something to do with it, as Andy's sneakers are the closest match to the footprints in the sugar. Karen comes home as they are talking with Andy, and angrily makes them leave. Once the police are gone, she goes to check on her son, and sees him talking to his Good Guy doll. At first it seems innocent, but Andy adds that Chucky said, "Aunt Maggie was a real bitch and got what she deserved".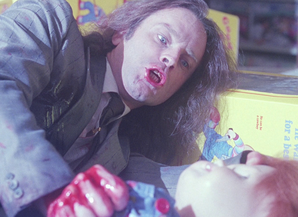 Karen sends Andy off to school the next day, but along the way Chucky gets Andy to take him to Eddie Caputo's hide out. As Andy goes off to use the bathroom, Chucky blows out the pilot light on the stove, and turns up the gas. Eddie hears his stove door open, and takes his gun to check it out. He fires wildly at the noise, causing his house to explode. The detectives are called in again, and find Andy at the scene. Suspicious, they call in Dr. Ardmore to monitor while they interview him. When Jack asks why Maggie fell, Andy says that she saw Chucky, and it scared her so much she fell down. Karen explains to him that no one believes his story, and if he does not tell the truth, the police will take him away from her. Scared, Andy confronts Chucky, begging him to say something. As he just repeats his doll lines, he runs to his mother, telling her Chucky is doing it on purpose, and would kill him if he ever told anyone about him. From behind the glass, Ardmore announces his presence, suggesting Andy stay a few days at the hospital.
With Andy sent to the hospital, Karen takes Chucky back to her apartment. She notices that the doll has been running without batteries, cautiously checks the doll's back. Chucky's head sharply turns backwards as she looks, making her drop the doll. Scared, she pulls the doll out from under the couch, and continues to try and make the doll talk. Chucky then attacks her, and she tosses him to other side of the room, allowing him to escape. As Karen gets detective Norris in to help her find out about the doll, Chucky follows and sneaks into Norris' car. While Norris is driving back home, Chucky tries to strangle him. Mike gets him off temporarily by burning his cheek with a cigarette lighter plug, but Chucky continuously tries to stab him from behind his seat. Unable to drive while being attacked, the car goes out of control and flips over. He continues to try and stab him, but Mike shoots him.
As he thought that as a doll he was invincible, he is shocked to see that the bullet hurt him, and runs off. Needing answers, he locates his voodoo instructor, John Bishop. He explains that Chucky must transfer his soul back into a human, but it must be the first person he revealed himself to: Andy. However, he refuses to help Chucky, and attempts to call the police. Before he can, Chucky pulls out a voodoo doll, which is connected to John. He stabs the doll, and leaves John to die.
Chucky sneaks into the hospital to Andy's room. He manages to break into Andy's room, but by that time Andy had escaped. Andy finds his way downstairs into the operating room, as Chucky follows him. He manages to knock Andy to the ground, but hides when Dr. Ardmore comes into the room. Ardmore puts Andy on the bed, and tries to sedate him. While they struggle, Chucky grabs a scalpel and stabs Ardmore in the back of the leg. Once on the ground, he puts an electric shock helmet on him, and shocks the doctor to death. During this time Andy runs back to his apartment, but Chucky is right on his trail. Once the two reach the apartment, he knocks Andy unconscious with a baseball bat and begins the ritual. However, before he finishes, Mike Norris and Karen enter. He stabs Mike in the leg, and then knocks him unconscious with the bat. Before he hits him again, Karen shoots him, redirecting his attacks. Karen throws him into the fireplace, and despite Chucky's pleas, Andy lights a match and ignites the fireplace.
Karen sends Andy to get a first aid kit, but Andy sees that Chucky is not in the fireplace. Completely burnt, he chases after Andy, who runs to the bedroom. Karen shoots him several times, knocking off his head, arm, and leg. When Mike's partner Jack arrives, he grabs Chucky's head and brings it back to the bedroom. Unbeknownst to him, Chucky's body sneaks through the air vent to follow the head, and breaks through the vent to strangle Jack. As Karen pulls Chucky's body off Jack, Mike shoots him in the heart, finally killing him.
Child's Play 2 (1990)
[
]
The company that makes the Good Guy dolls, Play Pals Inc, has received bad publicity from the Andy Barclay incident. To prove that Chucky is a normal doll, The CEO, Mr. Sullivan decide to rebuild him. However, during the rebuilding, a worker is electrocuted, and Mr. Sullivan wants to hide the accident and gives Chucky to another executive, Mattson. Unsure with what to do, Mattson tosses Chucky in the back seat of his car, and drives to a liquor store and gets out to buy vodka. While he is gone, Chucky checks the records that Mattson left in his car, and finds out where Andy is now living: the Simpson house. Upon getting back into the car, Chucky threatens Mattson with a water pistol, to drive to the Simpson residence. When they near the house, Chucky makes him park in a vacant lot, where he suffocates him to death with a plastic bag.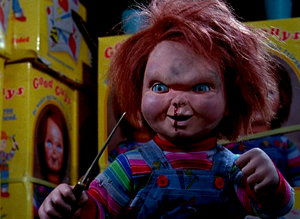 Entering the house, Chucky finds that there already is a Good Guy doll there, named Tommy. He breaks the doll with a glass antique, buries it in the backyard, and then proceeds to pose as him. The next night, Chucky decides to act, and sneaks into Andy's room. He ties Andy to the bed and begins the chant, but is interrupted as Andy's foster sister Kyle sneaks through the window after a night out. Their foster parents come into the room as Kyle unties Andy, and throw Chucky down into the basement.
The next morning, when Andy goes to school, Chucky follows. During recess, he creeps into the classroom, and finds Andy's test paper. He writes obscenities on it, causing Andy's teacher to hold him in detention after school. She locks Andy inside the classroom, and throws Chucky into the closet, whom she finds in the class play area. Andy escapes through the window. Returning, she hears noise coming from the closet, and assumes that Andy is hiding from her. She searches the closet, only to have Chucky stab her in the chest with an air pump and send her flying into the desks. He emerges from the closet, and beats her to death with a yardstick.
In the night, Andy hears something coming from the basement, and with a knife, goes downstairs. Chucky attacks him, only to be stopped by the foster father Phil coming down. Andy tries to warn Phil, but Chucky trips him and leaves him dangling on the edge of the stairs. He then drops him, causing him to fall and break his neck. With her husband dead, the foster mother Joanne sends Andy back to the orphanage. Alone in the house, Chucky follows Joanne upstairs and slits her throat, then sets his sights on Kyle. Subduing her, Chucky forces her to drive him to the orphanage. He holds her at knife point as he pulls the fire alarm, to get Andy out. He stabs Andy's care worker Grace to death, and takes Andy to the Play Pals factory.
Inside the factory, he knocks Andy unconscious, and begins the chant. However, it is too late for him to transfer his soul now; Chucky is trapped as a doll forever. Enraged by this, Chucky goes to kill Andy, but is subdued by Kyle, who takes him and runs. The two are chased through a maze of dolls, and as they run up a conveyor, Kyle slams the gate onto Chucky's hand. He manages to pull the arm free, losing the hand, and replaces it with his knife. He continues the chase, and kills the lone technician on the way. Although he goes in for the attack, Kyle knocks him into another machine, which cuts off his legs. Chucky once again tries to kill, rolling himself over on a crate, but Andy douses him with molten plastic. He is still not dead. While he attacks Kyle, she forces an air tube into his mouth, expanding his head until it explodes, killing him.
Child's Play 3 (1991)
[
]
The Good Guy Dolls have been restarted. As they decide to recycle the old dolls for the new ones, Chucky's remains are in the batch. With his blood melding with the molten plastic, he is once again brought to life in a new doll body. Being the first doll off the assembly line, Chucky is given to the CEO, Mr. Sullivan. He brings the doll back to his apartment, where Chucky kills him, and then uses his computer to locate Andy.
Chucky mails himself to Andy Barclay at the Kent Military School, but is instead opened by a boy named Ronald Tyler. He decides to use Tyler as his new host, and reveals himself to the boy. He gets ready for the ritual, and disguises his plans as a game called "Hide the Soul". Unfortunately for Chucky, Cochrane finds Tyler, and as toys are against the rules, takes him away and throws him in the trash. The Garbage Man takes him and throws him into the truck, but is alarmed to hear a voice shouting from inside. While he goes to look, Chucky slips in the driver's seat and starts the compressor, killing him.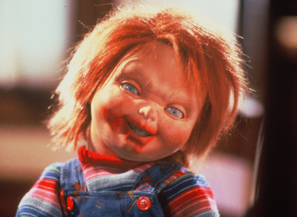 Later that night while searching for Tyler, Chucky breaks into Andy's room to attack him. Andy thwarts him off until Shelton comes in, seeing Andy slamming the doll against the floor. He takes Chucky away, claiming he needs it for his sister's birthday, but Chucky escapes again. He is able to eventually locate Tyler, who is playing Hide-and-Seek. When he finds him in Cochrane's closet, he has no time to cast the ritual as they are then found by Kristin De Silva and Ivers. The girls quickly flee as they hear Cochrane coming back and take Tyler with them, leaving Chucky. Jumping out of the desk armed with a knife, Chucky scares Cochrane into having a heart attack.
The next day, the barber Botnick finds Chucky sitting on his chair, and when he tries to shave his head, his throat is slit with the razor. A few hours later, the school is getting ready for their annual paint ball war game, with the students split into red and blue teams. Chucky steals the red team's rifles, and replaces the paint pellets with live ammunition. Before the game starts, he calls Tyler out to the woods. He reveals his true intentions to the boy, who out of fear stabs the doll and runs back to the game. To get Tyler back, he captures Andy's friend Kristen, and using the radio, tells Andy to bring him Tyler or he'll kill the girl. During this time, he also shouts insults at both teams in order to get them to start shooting at each other. After they switch hostages, both teams show up and start firing, with students being shot and killed in the crossfire. In the confusion Tyler escapes, and Chucky throws a grenade at the crowd while he chases after the boy.
Capturing Tyler again, the two find their way into a nearby carnival. They go into a haunted house, followed closely by Andy and Kristen. Once inside, the two groups catch up with one another, during which Chucky shoots Kristen in the leg, forcing Andy to take on Chucky alone. As Chucky continues to chase after Tyler, he unintentionally stands underneath a Grim Reaper statue, which slices half of his face off. When Tyler is knocked unconscious by the wing of a giant figure, Chucky begins the chant. However, halfway through the chant, Andy shoots his left arm off with a pistol and knocks him off the mountain of skulls. Once Andy reaches Tyler and wakes him, Chucky leaps back up. Tyler hands Andy a pocket knife, which he uses to cut off Chucky's remaining hand, and throws him off. Chucky falls into a propelling fan, shredding him to pieces.
Bride Of Chucky (1998)
[
]
Chucky's remains have been taken to a confidential evidence footlocker. Tiffany, the ex-girlfriend of Charles Lee Ray, bribes a cop into getting his remains for her, which she brings back to her trailer home. Using parts of other dolls, she sews him back together, and attempts to resurrect him. However, she is disappointed to see nothing happen, and is then interrupted by her unwanted lover, Damien. Tiffany notices Chucky moving around the trailer, but he still appears to not be alive. In a last ditch effort to awaken him, she handcuffs Damien to her bed with Chucky on his chest, and begins to perform a striptease for them.  To incite Chucky, she tells Damien that he can be jealous and will kill anyone who looks at her. When Damien jokes about Chucky's size, he finally comes alive, ripping out his lip piercing. While Damien screams in pain, Chucky smothers him to death with a pillow, as Tiffany watches in delight.
After they get reacquainted, Tiffany brings up the ring she found the night he was gunned down, thinking it is an engagement ring. To the contrary, he reveals that he was never going to propose to her, and the ring was one he stole from someone he killed, and planned to sell. Heartbroken, she confines him to a playpen for the night. The next day, she taunts him by throwing him a bridal doll, with the ring on a necklace. When she leaves to have a bath, Chucky begins sawing out of the pen with the ring. He grabs the bridal doll and a knife, then slowly walks over to Tiffany. He knocks her TV into her bathtub, electrocuting her to death, and then gains further revenge by transferring her soul in the bridal doll. After convincing her that he is the only one who can help her now, he tells her about the Heart of Damballa, the amulet he used to transfer his soul into the original doll, which is what they need to find new bodies. However, it is back with his body, buried in the cemetery back in Hackensack.
In order to get there, Tiffany hatches a plan to get her neighbor, Jesse, to take the two dolls to Hackensack by the next day. Because Jesse wants to take his girlfriend Jade away from her restrictive uncle Warren Kincaid, he accepts her offer. Once Jesse arrives to help Jade pack, Warren breaks into Jesse's van to plant marijuana. To make sure Warren does not interfere with their plans, Chucky sets off an airbag to launch nails into his face, and then hides his body in the back. Later on the drive, the couple are stopped again by another cop, Norton, who is sent to find the marijuana Warren planted. Worried Norton will find Warren's body, Chucky tosses the marijuana closer to him so he finds it. While Norton interrogates Jesse, Chucky crawls over the Norton's police car, shoves a cloth into Bailey's gas tank and lights it. When Bailey begins to smell the smoke, the dolls wave to him before his car explodes.
Jesse stops at a chapel motel to marry Jade, and when they are gone Chucky stabs Warren to death after he tries to run away. That night in the Honeymoon Suites nearby, the couple are visited by another next door, who are secretly thieves and steal their money, enraging Tiffany. Later that night she kills them, and Chucky is so amazed that he proposes to her. He gives her Jade's ring, and together they make love. The next morning, the couple continue their drive with their friend David, who caught up with them. He reassures them that neither of them are behind the murders happening around them, but is shocked to find Warren's dead body in the back. While confronting them, the dolls jump up and hold them hostage with guns. David, backing up with fear, is accidentally hit by a truck and killed.
After the dolls murder another couple and hijack an RV, they force Jesse to drive to the Hackensack cemetery. Along the way, Jesse and Jade are able to make the dolls argue. While distracted, Jade kicks Tiffany into the oven, and Jesse pushes Chucky out of the window. However, he shoots at Jesse, causing the RV to run off the road and into a ditch. Out of the RV, Chucky captures Jade, and she takes him to his grave site. While a medical examiner is digging up his coffin, Chucky shoots him and orders Jade to open the casket and give him the amulet. Jesse then appears with Tiffany, and they trade hostages. Chucky throws his knife at Jade, but Jesse turns her around and is stabbed in the back. After she pulls the knife out, they are tied up. As Chucky begins the chant, Tiffany tells him to kiss her.
Kissing, Tiffany pulls the knife out of Chucky's pocket and stabs him. Angered, he hits her with a shovel, and they fight until he ultimately stabs and kills her. While looking at his dead bride, Jade knocks him into his grave. She takes his gun, and shoots him multiple times.
Seed Of Chucky (2004)
[
]
Chucky and Tiffany's son Glen has been living in Britain with a ventriloquist named Psychs. Wanting to find his parents, he escapes to Hollywood, where new dolls of them have been made for the film "Chucky Goes Psycho". Glen resurrects them with the Heart of Damballa amulet. After the two kill one of the stage hands, their son announces himself. Chucky and Tiffany cannot agree on his gender, and while Chucky believes he is a boy and gives him the name Glen, Tiffany calls her Glenda. For the welfare of their child, Tiffany decides to quit her murdering habits to set a good example. However, Chucky has no intention of quitting, and tries to teach Glen behind her back.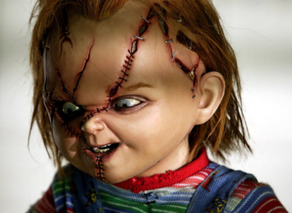 Chucky arranges a "boys' night out" for him and Glen, which results in them rear-ending Britney Spears' car into a ditch so forcefully that it explodes on impact. They then set their sights on their next victim, the photographerthat took the pictures of Chucky. Glen tries to stop his father and save him, but the photographer is so startled by Glen's appearance that he hits a shelf where sulphuric acid falls on him. This causes him to die slowly, as the acid eats away his face. Chucky is so thrilled by this, that he sets up a camera to take a photo of them beside his first victim.
During this time, Chucky and Tiffany had come up with a plan to transfer their souls into new human bodies to start a new life. They had chosen the actress Jennifer Tilly and director Redman. And for Glen, they impregnated Jennifer with Chucky's semen. Jennifer is abducted by Chucky while on phone, and tied to her bed, As Tiffany kills Redman, they kidnap Jennifer's limousine driver, Stan, as Chucky's replacement body. The voodoo magic that "fuels" the killer dolls has also accelerated the pregnancy, and she soon gives birth to twins. It is then that Chucky has an epiphany. After several years of being an infamous killer doll, Chucky finally accepts, and embraces, his circumstances.
Furious with his decision, Tiffany decides to leave with Glen. Chucky attempts to kill Jennifer to stop Tiffany's plans, only to have Stan take the knife instead. Hearing police sirens in the distance, Chucky is forced to flee, with Jennifer being taken to the hospital. Tiffany and Glen follow, and she manages to transfer her soul in the nick of time, as Chucky breaks through the door and axes Tiffany's doll body. Angered by his father, Glen takes the axe and proceeds to impale and dismember Chucky. Glen asks Chucky if he is proud of him, and Chucky congratulates Glen before being decapitated and killed. However, four years later, human Glen is delivered a strange package. When he opens it, he finds that someone sent him Chucky's dismembered arm, which proceeds to strangle him.
Curse Of Chucky (2013)
[
]
Chucky arrives in an unmarked package to the isolated house of Sarah and Nica. As neither of them were expecting the doll, they think nothing of it and throw it away. That same night, Chucky manages to kill Sarah, making it look like a suicide. To help Nica, her sister Barb and her family come up to the house, as well as the family priest, Father Frank. When Barb's young daughter Alice sees Chucky, she quickly adopts him as her new Good Guy doll.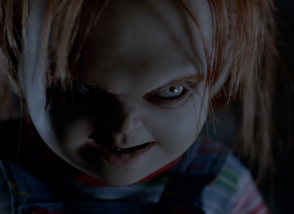 In the evening, Nica and Alice cook chilli for the guests, as Chucky watches. While they leave the room to set the table, Chucky pours rat poison on one of the plates. At dinner time, Father Frank eats the poisoned chilli, causing him to feel disorientated. He decides to go home, but while driving back he loses control and dies in a traffic accident. Later in the night, Alice is put to bed with Chucky. A thunderstorm rages in the background, scaring Alice, who hides under her covers. She tells Chucky that she is scared, and Chucky simply laughs at her. To keep her out of the way, he tells her that they are going to play Hide-And-Seek, so she hides in the closet for the night. He locks the door behind her.
When Barb and the nanny Jill are Skyping, Chucky sneaks out of Alice's room. As Jill strips down to her undergarments, Chucky kicks a bucket of rainwater over, which touches Jill's feet and the power outlet beside her. This electrocutes and kills her, and causes a power outage. With her Skype abruptly cut off, Barb decides to try to find Alice, who is not in her room. She goes up into the attic, and discovers Chucky there. She also finds a knife by Chucky, and she places him and the knife down while she looks for Alice. When she turns around, she sees Chucky on the shelf behind her. She notices something on his face, and begins to peel off latex strips, revealing scars underneath. She puts her finger near his mouth to remove another strip, causing Chucky to finally come to life and bite her. She jumps back and falls on the floor, and with her cornered, Chucky stabs her in the eye.
Hearing noises coming from upstairs, Nica climbs up to the attic staircase, only to find Barb dead. Chucky reveals himself, proclaiming that she is next. She manages to get away into Barb's husband Ian's room, who takes her down to the garage to look for Alice. Following them, Chucky gets into the car, and starts revving the engine
in an attempt to suffocate her. She smashes the window with a hatchet to get the keys and turn the car off, but Chucky swallows them. However, before too long, Ian rushes back into the garage and blames Nica for the murders. She faints from the stress, so Ian ties her to her chair. He attempts to prove her guilt by playing the nanny cam footage, which he placed in Chucky's head, but is shocked to find that Chucky is the killer. Without time to react, Chucky wheels Nica into Ian, knocking him to the ground. He grabs Nica's hatchet, and axes his lower jaw clean off.
Nica has wriggled out of her restraints, and Chucky axes her in the knee. She manages to remove the hatchet from her leg, and with the blunt side, knocks Chucky's head clean off. However, as he is a doll, he simply reattaches it. He pushes her over the balcony, where she falls to the ground below. Walking down the stairs, he takes a little time to explain his motives. When he reaches the bottom, the power comes back on, and Nica manages to get her lift. Regardless, the power goes out again and she is forced to hold the door closed, as Chucky slashes her fingers. She takes the knife from him, and plunges the knife in his back. Nica is found by Officer Stanton, and is found guilty for Chucky's crimes.
Tiffany is revealed to still be involved with Chucky, as she bribed another police officer to steal Chucky back for her. She ships him to Alice's new location, her grandmother's house. Chucky suffocates her grandmother with a plastic bag, and performs his ritual with Alice.
Six months later, Chucky is sent back to Andy Barclay's home. Andy leaves the package on his table as he answers his phone. While Andy is talking to his mother, Chucky cuts his way out of the package with his knife. When he turns around, Andy is pointing his shotgun directly at the doll's face. Before he can react, Andy shoots.
Cult Of Chucky (2017)
[
]
Andy Barclay has kept the Chucky head he shot four years before, still alive even without the body. He takes the head out of his safe and places it on the table, lighting up a joint after an unsuccessful date with Rachel. Chucky asks for a hit, and Andy puts the joint up to the head's lips. He inhales, but lunges at Andy's hand before exhaling. As Andy walks away from the table to get something to "play" with Chucky with, he taunts Andy about how he will never know if Rachel is a natural redhead. To this remark, Andy takes out a flamethrower and proceeds to torture him.
Meanwhile, Nica has been transferred to the medium security Harrogate mental institution. She attends a group session held by Dr. Foley, and the subject of Nica's past and the murders comes up. While Nica explains that she committed the murders and hopes her niece Alice is okay, Angela interrupts to claim Chucky phoned her to say that he is coming for Nica, now that she can have visitors. In order to help the group make sense of the "Chucky" situation, he goes to his desk and brings out a Good Guy doll, named Chucky. Although some in the group are disturbed by the doll, Madeleine immediately takes to it as her baby, and carries it around with her from then on.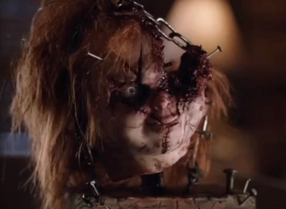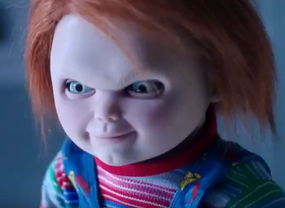 At lunchtime, Nica has a visit from Tiffany, claiming to be Alice's legal guardian. Tiffany explains that Alice has died, and she has left her the Good Guy doll she used in therapy, also named Chucky. Nica throws the doll to Dr. Foley before she exits the room distressed, so he puts it in the group therapy room. After he leaves, the Chucky doll glares in his direction. Later in the night, Chucky sneaks behind the front desk and steals a scalpel to go after Nica. Slowly walking down the hall, he stops in front of Angela's room as she comes out of the door. He becomes frustrated when she believes he is just a hallucination, and announces that "she's next" as he walks away. Entering Nica's room, he notices that one of the spokes on her wheelchair had been torn out, which she used to slit her wrists to commit suicide. However, Chucky stitches her wrist together to save her life, and writes "not so fast" into the pool of blood by her bedside. The next morning Nica wakes to hear the alarms sounding throughout the facility as the nurses rush to Angela's room. There she is found dead lying in her bed, her wrists slit. In one hand is the wheelchair spoke Nica used, and written in her blood is "Chucky did it".
Andy rewatches a video he took at Dr. Foley's office in 2013, where he tries to prove Nica's innocence by showing him the Chucky head. He shoots the head with his gun, causing Chucky to scream, but Dr. Foley only believes that it is special effects and has him taken out of the office. After the video ends the Chucky head laughs, taunting that maybe Andy is really crazy.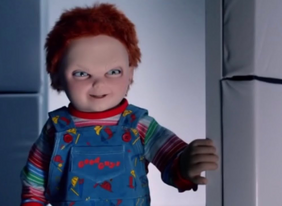 At the next group therapy session as they discuss Angela's death, Madeleine comes in with her Chucky as Alice's Chucky doll is already on the couch. Nica becomes convinced that Alice's Chucky still contains the soul of Charles Lee Ray, and demands Dr. Foley prove that it is just a doll. Sighing, he takes the doll and holds a lighter over its hand, melting the plastic until the hand is disfigured. Nica suggests burning the other doll's hand, which causes Madeline to jump up and leave the group. Malcolm and Nica believe that Madeleine's Chucky is alive, and run after her to destroy it. Madeleine walks out of the building with her doll, and Nurse Ashley stops them from following her. Nica devises a plan to distract the nurse, allowing Malcolm to sneak outside as Nica watches from the window. She sees Madeleine standing in front of Angela's open grave, who then throws the doll into it. Malcolm catches up to Madeleine at this moment, and is also pushed into the grave by her. The nurses reach him just as he passes Madeleine her doll back, and as he is pulled out, he looks directly at Nica, smirking.
Claire returns to the group therapy room and takes the Chucky doll. She goes to dump the doll down the laundry chute, but yells out in pain before she can do so. Looking at her arm, she notices a bite mark as Dr. Foley and Nurse Carlos catch up with her. He thinks that she did it to herself, and she is taken to another room to be restrained. She is given a drug to calm her down, and she is then left alone with the Chucky doll. He walks up to her with a canister of compressed oxygen. He asks her if "compressed" means what he thinks it means, before going to the other end of her gurney. He throws the canister at the ground, which shoots through the skylight above Claire, causing shards of glass to fall and decapitate her.
That night, Andy reads an online article about the connection of the deaths at Harrogate with Nica and Chucky. Laughing, the Chucky head remarks that "he isn't the only one". Andy goes to his gun cabinet and takes out another Good Guy doll, this one with short hair. He has it mailed to Dr. Foley, while he takes his truck and begins the drive to the institution.
Dr. Foley and Nica have a private session, where he hypnotizes her to make her admit that she killed Angela and Claire. Nica chuckles during the session, and says that Chucky is right behind him. Suddenly, Alice's Chucky hits Dr. Foley from behind with a glass bottle, knocking him out. Chucky remarks on how diabolical Dr. Foley is, and how in a way he is a little envious of him. Jumping down from the desk, he grabs a shard of glass and hands it to Nica, telling her that "she knows she wants to". However, before she can do anything, she falls unconscious. The next day as the therapy group waits for Dr. Foley, Malcolm reveals that his new name is Charles. 
After Madeleine leaves the group, she goes into her room to put Chucky down for a nap. But as she places him on her bed, she reenacts the murder of her own baby with the doll, smothering him with a pillow. After Madeleine finally admits what she has done to Dr. Foley, they bury the doll in a makeshift grave outside. Nica watches the grave at night from the window, and just as the Chucky's hand bursts from the ground, the other Chucky comes behind Nica and injects her with a sedative. As Madeleine is in her room, her Chucky doll comes back to her and they embrace one last time. She asks him to kill her, to which he obliges and chokes her to death by shoving his arm down her throat. After her body is taken away, Dr. Foley gives the Chucky doll to Carlos and orders him to get rid of it, to which he drops it down the laundry chute.
As Dr. Foley returns to his office, he finds Nica strapped in a strait-jacket with the short-haired Chucky still on his desk after being delivered. He proceeds to put red high heels on Nica's feet, before again being knocked out by Chucky, who offers Nica a glass shard, but she refuses to kill him. Madeleine's Chucky walks into the room, and uses the Damballa incantation to bring life to the short-haired Chucky. Alice's Chucky then explains to Nica that he found a spell on VoodooForDummies.com, allowing him to possess anyone. He reveals that he was able to possess Alice for a short time, but she was killed when one of her victims fought back. Just then Carlos walks into the office, but before he can run he is stabbed in the leg, causing him to fall to the ground. From there, the three Chuckies use their drill, knife, and glass shard to repeatedly stab him until he succumbs and dies. Alice's Chucky welcomes the short-haired Chucky "to the cult". The short-haired Chucky goes off to kill Andy while Madeleine's Chucky guards the door to not let anyone in, leaving Alice's Chucky alone with Nica. He finally admits to her that he was never going to kill her, and transfers his soul from the doll into her. Now in Nica's body, he stands up out of the wheelchair and takes the strait-jacket off. Standing over Dr. Foley, he says that "this is for Nica" before stomping the doctor's head in with the red shoes.
Walking through the asylum, Chucky runs into Malcolm, who claims that he killed Ashley. Chucky responds that he did not, and Malcolm's reality begins to fall apart, dropping to his knees. In his moment of confusion, Madeleine's Chucky comes from behind and uses the power drill through his head, coming out of his eye. Meanwhile, the short-haired Chucky approaches Andy's door, and unlocks it with a keycard. He throws his knife at Andy's leg, knocking him to the ground. Chucky rushes to grab the knife, allowing Andy to restrain him against the wall. He rips off the Chucky's overalls and digs into his stomach, retrieving a gun he hid inside. He shoots Chucky multiple times in the chest before finally stomping his head in. Just as he finishes, he turns around to see Nica, possessed by Chucky. He tries to shoot, but the gun has run out of ammo. As a woman on the PA announces that the facility is on lockdown, Chucky quickly closes the door on him, leaving with one last remark, "tag, you're it pal". While Chucky walks out of the asylum, Madeleine's Chucky puts down the drill and goes into doll mode. Chucky reunites with Tiffany at the asylum gate, and the two share a kiss. They get into the car, and Tiffany begins to feel bad about Alice, and that it was nice to have her around. However, Chucky simply says "fuck that kid", and the two start laughing before driving away.
Before Andy leaves to go after Nica, he sends Kyle to his cabin. She is instantly recognized by the Chucky head as she enters Andy's cabin, and she then continues torturing the head.